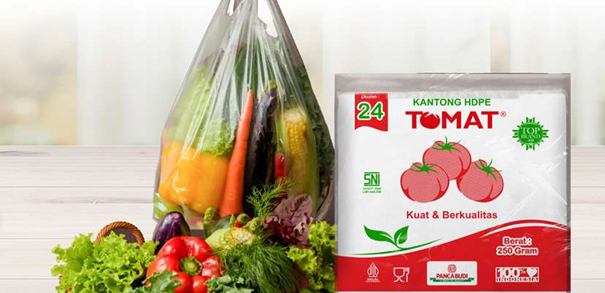 HDPE (High Density Polyethylene) resin is a raw material for HDPE Plastic for HDPE Plastic packaging which is commonly produced in the form of plastic bags, plastic roll and plastic sheet.
Indonesian people are familiar with the term HDPE plastic bags as HD bags ("Kantong Kresek") and shopping bags.
We produce Hygienic and High Quality HDPE Plastics by implementing Production Standards and Quality Management.
Types of Plastic HDPE Sold :
Usages of HDPE Plastic Bag are :
Hold hot foods and beverages.
Carry a variety of groceries such as: fruits, vegetables and other items.
Common HDPE Plastic Size Available :
Small = 10 cm, 15 cm, 17 cm.

Medium = 19 cm, 24 cm, 26 cm.

Big = 28 cm.

Jumbo = 35 cm.

Super Jumbo = 40 cm.

Extra Jumbo = 50 cm, 60 cm.

Maximum size up to 120 cm.
Common HDPE Plastic Colors :
Clear and Transparent.

Color: White, Red, Yellow, Green, Blue, Black and other colors.

Stripe: 2 colors (Red White, Black White).